For Brazilian Vogue
By Nadia Marks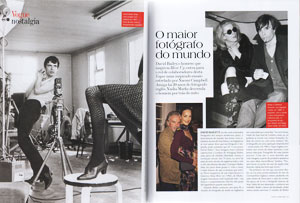 David Bailey is one of the most highly acclaimed photographers of modern times, and quite possibly the most famous photographer in the world. His name has become synonymous with the art of taking pictures, and in England, if you want to describe someone as an enthusiastic photographer, you would say that he is "a bit of a David Bailey." His career spans more than five decades and he's responsible for 'Cool' British photography, a style that was to influence generations of photographers, artists, and designers to come. His informal pictures capture London in a time of rebellion, freedom, music and the sexual revolution that was the swinging sixties. He's been taking pictures now for more than 50 years and he has photographed almost every important and famous person of those five decades. Bailey belongs to this group himself, and he is often more famous than some of people he photographs. In the 60's he had a film based on him, the iconic Blowup by the Italian director Antonioni – people often say he was the Johnny Dept of his time- and his good looks and bad boy behaviour is legendary. In the 1950's the world of fashion photography and magazines in Britain was run by an established elite of high society. David Bailey, born to a working class family, was a complete stranger to these circles. "If you came from the East End of London there were only three things you could become, he says, "a boxer, a car thief, or maybe a musician." Photography was an unrealistic aspiration and yet, in 1960, British Vogue gave this working class, semi-educated young man a contract.
Photography was something Bailey loved from a very early age, "when I was ten or eleven, I decided that the idea of making images out of chemicals was amazing he explains, "so I would spend hours in my mother's cellar making prints of my pictures."
The first time I met Bailey I was a very young assistant to the art director of British Cosmopolitan assisting on a cover shoot for the magazine. By then he was the famous photographer he is now. I knew about his reputation and I had also learned about his work at art school, so I was very nervous. Bailey's studio at the time was in his house, which he shared with his wife the exotic half American half Hawaiian model Marie Helvin, and his several dozen pet parrots. A fascinating house, full of colour, bird noise photographs paintings loud music and flash bulbs. The model we were photographing was as young and inexperienced as I was and also nervous because she was warned that Bailey could be difficult. On the contrary, he was charming, told the model she was beautiful and put her at ease, made jokes, laughed a lot, and ignored the art director. Later I discovered he takes direction from one. As I stood in the background observing him I knew that I was in the presence of a genius.
Twenty years or so after that first meeting, Bailey and I still know each other, like each other and continue to work together. As I'm getting ready to go and interview him for this piece, I ask my eighteen year old son who is a photography student, if he has a question for Bailey. " Ask him how he gets the gorgeous women," he says with a smile and I remember that of course there is that aspect to Bailey too. His women! His undoubted celebrity status not only makes him internationally famous as a photographer, but his marriages and relationships with some of the worlds greatest beauties make him one of the most envied males on the planet. Someone once said about him that the list of women he's slept with would fill a paperback book! The Bailey mythology was such that he only had to photograph a girl for Vogue and the whole industry assumed he was sleeping with her, and usually he was. In the last fifty years he has lived, among others, with Jean Shrimpton the gorgeous English debutante who's career Bailey launched as a Vogue model and who was to become the ultimate 60's babe. He has married, the great French beauty, actress Catherine Deneuve, the stunning Amercan model Marie Helvin and his present wife, Catherine Dyer, one of the great contemporary British beauties, and the only one to change her name to Bailey. So, how does he do it? I ask him. "How does he get these gorgeous women? "Make them laugh," he replies laughing, "and don't scare them with too much sincerity!"
There is an incredible sensuality that exudes from Baileys photographs regardless of the beauty of the person. Mick Jagger's lips, for example, have never looked sexier than his portrait of him in the 60's, Raquel Welch's animated laughter and Michel Caine's eyes provocatively looking out from his black rimmed glasses are pure seduction. "The criteria of beauty as the ancient Greeks and Romans saw it has completely changed," he says, and he believes that ethnic mixing has created a new perception of modern beauty. "Models like Marie Helving, Iman and Naomi Campbell are very different from the conventional classic ideals yet they all still conform with the western perception of beautiful. The only one to break that mould, and who is a true African beauty, is the model Alek Wk."
When I asked Bailey which was the best model he has ever photographed he told me immediately and with no hesitation that it was Jean Shrimpton. "I won't say that Jean was necessarily the most beautiful," he explained, "but she had an instinctive ability to know what the camera wanted and the camera loved her. She definitely stood out from all the others as the best, like Marlene Dietrich and Greta Garbo did in their times." Technology has also played a big part to the way we look at beauty, with the use of computers and heavy retouching. "There is too much of that going on in photography these days," he explains. "In certain extreme cases a face or a body can look more like a painting than a photograph. I like to see a woman's face with some flaws, like circles under the eyes or lines, they add character," Kate Moss, Bailey says has huge amount of character in her face, and he thinks she is the new Jean Shrimpton. "She possesses similar qualities to Jean, and the camera loves her too." However these days, he tells me, he prefers to take portraits of people rather than models and high on his list of people he would still like to photograph is Fidel Castro. "He is one of the last icons, like Churchill or Stalin."
The relationship that develops between Bailey and his models is apparent when looking a his work. "I take pictures the same way as I always did," he says, "I try and find something in the person that is not obvious but something individual to them." Looking at Bailey's photographs you are aware that over the last forty or so years there have been some pivotal moments that he has created which mark shifts of style and social changes. When I asked him if he could point out specific images that illustrate theses changes he told that he believes the women in his life have been the biggest subconscious influences on his work. "The three that stand out as having the strongest effect were Jean Shrimpton, Marie Helvin and Catherine Dyer [now Bailey]." His philosophy about his ex relationships is that if you have loved, lived and even married a person, you don't stop liking them because you have fallen out of love with them. "My ex-wives are amongst my best friends," he says smiling.
Apart from taking pictures which he does all the time, Bailey never stops working on a myriad of projects. He is a prolific painter, he makes sculptures, he develops and prints his pictures, he sells his pictures, he exhibits them, and publishes many books of his old work and new work and his travels. At the moment he's in the process of publishing a book of his photographs of the American actress Angelica Huston. "I've photographed her a lot over the years and it's nice to have them all compiled in a book," he tells me. "Last year I did one of Jean, next I'm planning one on Penelope Tree and another on Catherine. I'm also working on a Polaroid book, just shot Kate [Moss] for that,  and then I'm going off to India and there will be a book of that too." So, I ask, from all the things that he's doing now what excites him the most? "Catherine!" he says with a burst of laughter looking over at the sofa where Catherine Bailey is sitting reading the newspaper. She looks at us and laughs too. The two have been married for over twenty years, and she is the only one who has give him children; two boys age 20 and 14, and a girl, of 22.
Catherine at 46 looks even more beautiful than when I first met her when she was a young model. Going by the way Bailey looks at his wife, you just know he is as much in love with her now as he was when they married in 1986. "Love's a funny thing…" he says thoughtfully, "I knew it with Catherine instantly, the moment she walked into the room. Of course I was older by then, so I wasn't taking so much for granted. Everything excites me. Life excites me! What I do is life, and life is what I do. When I started, my interest was in painting but it takes a lot of imagination to be a good photographer. You need less imagination to be a painter, because you can invent things. In photography everything is so ordinary it takes a lot of looking before you learn to see the ordinary."
His big influence he says was first Picasso, and then Cartier-Bresson. "It's very rare that I'd call a photographer a genius, but then again it's rare that I' call anyone a genius. Picasso, Matisse,  Kandinsky, Cartier-Bresson all great artist but Picasso was a genius in every way." The only reason he started shooting fashion, Bailey explains, is because it was the only way to be creative in the Sixties and the only way to make a living as a photographer. Now Bailey believes photography is art and not just a craft as it was considered in the past. So what about the fashion industry, I ask him, what does he feel about that? "In my life time my favourite designer was Yves St Laurent he was an original talent and I was the one to sent Catherine (Deneuve) to him." Deneuve became something of a muse to Yves St Laurent and has always continued to wear his clothes. "If you ask me to tell you who I consider to be the best fashion designers I would always say, Balenciaga, Channel and Yves Saint Laurent. John Galliano is pretty good too but those three stand the test of time."
So well into the 21st century and five decades after his debut in British Vogue Bailey is still working with the same enthusiasm and passion and still creating some of the most innovative images of our times. In the spirit of a true artist he is still inspired and excited by the prospect of taking a new photograph. "I always want to make a better picture than the last one," he finally says, "because if I thought I have already taken it I might as well give up."
©Nadia Marks 2008