One Summer in Crete
Buy Book
Calli's world has fallen apart – her relationship is suddenly over and her chances of starting a family are gone. So when she's sent to write a magazine article about the Greek island of Ikaria, it seems the perfect escape. The locals there are reported to be among the happiest and longest-living in the world. The island has a secret, one that Calli is determined to uncover . . .
Travelling to Crete, from where her family originates, Calli begins to suspect there are more secrets closer to home. Her aunt Froso begins to recount the story of her own heartache as a teenage girl facing cruel hardships in rural Greece. A story of love, betrayal and revenge, it will change Calli's life forever.
'One Summer in Crete' published by Pan Macmillan is out May 14th 2020.
Leave a Review
Between the Orange Groves
Buy Book
In a small village, set among the wild mountains of Cyprus, two families of different faiths share a seemingly unbreakable friendship based on mutual respect and deep affection. Mothers and daughters share their daily secrets, fathers and sons support each other as they live their lives between the fragrant pine trees and orange groves. It's here that two boys, Lambros and Orhan, grow up side by side, as close as brothers. Their lives are inextricably linked, but as their fortunes shift and time passes, an unforgivable act of betrayal takes place, setting in motion a chain of events that tears the two friends and their entire families apart…
Many decades later and now an old man living in London, Lambros decides to share his painful memories with his daughter Stella; transporting her back to an island brimming with passion and at its heart a scandal that still haunts those involved. Is it too late for forgiveness? Or can the next generation embark on a journey of their own to help mend the damage done all those years ago?
'Between the Orange Groves' published by Pan Macmillan is out May 16th 2019.
Leave a Review
Secrets under the Sun
Buy Book
The truth will surprise you…
On the island of Cyprus, in the small seaside town of Larnaka, three childhood friends have reunited for the funeral of Katerina, the much-loved old woman who had a profound effect on their lives.
Eleni, Marianna and Adonis grew up together, as close as siblings. Although from humble beginnings – a housemaid from the age of thirteen – Katerina's love, wisdom and guidance helped shape them all.
Her loss leaves the friends bereft, but the funeral is not just a time to mourn and remember. Adonis's mother decides that with Katerina's death comes the time to share the family's secrets and answer the riddles of their childhood. A story of deception, forbidden love and undying loyalty unravels. What she reveals will change everything…
'Secrets under the Sun' published by Pan Macmillan is out May 17th 2018.
Leave a Review
Among the Lemon Trees
Buy Book
She had thought that they would be together forever, but Max's betrayal leaves Anna questioning their marriage and fearing the future.
So when her elderly widowed father invites her to spend the summer with him on the small Aegean island of his birth, Anna agrees – unaware that a chance discovery is about to unleash a host of family secrets. Kept hidden for sixty years, they reveal a torrent of events, beginning in Greece at the beginning of the 20th century and ending in Naples at the close of the Second World War.
Confronted by their family's long buried truths, both father and daughter have their worlds turned upside down and Anna begins to realise that, if she is ever to heal the present, she must first understand the past . . .
'Among the Lemon Trees' published by Pan Macmillan is out June 1st 2017.
Leave a Review
Also by Nadia Marks two Teen Novels.
Making Sense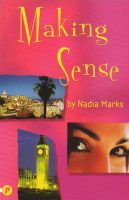 14-year-old Julia is uprooted from her native Cyprus and made to settle with her family in London, without a single word of English and knowing no one. Her attempts to get to grips with the language and the sometimes unfathomable British culture as she makes new friends, finds a boyfriend and starts a new school make for fascinating, and at times very funny, reading.
Bitter Sweet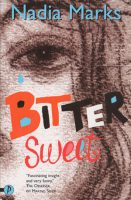 Continues Julia's story as she falls in love with a boy her parents definitely wouldn't approve of. Makes a return visit to see her old friends and family in Cyprus, discovers that her culture shock can never be completely overcome, and learns to live with her new identity, caught between two completely contrasting ways of life.