for Photoicon
By Nadia Marks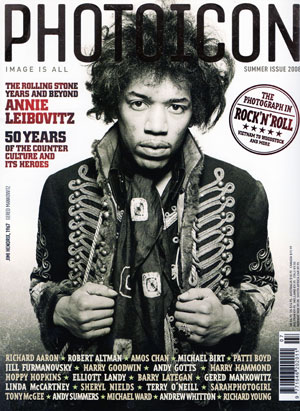 British-born photographer Platon is named after the Greek philosopher Plato, and although not a philosopher himself he has, apart from talent, an inquisitive mind and an analytical approach to life and his art. In 1992, aged just 23 and still a student at the Royal Collage of Art, Platon was named in British Vogue's talent contest as the Best Up and Coming Photographer of the Year. This nomination naturally led to many editorial commissions and later work from some of the best UK publications such as Arena, The Face and Vogue. His recruitment in 1995 by the late John Kennedy Jnr to photograph leading American subjects for the political magazine George, gave Platon an interest and a lasting fascination with politics, especially in America, where he now lives.
In 2004 he published his first book called Platon's Republic comprising, 120 portraits of contemporary icons of power, fame, and talent. The book included the noted and much talked about portrait of President Bill Clinton that was to be the last official Presidential portrait of him. The 'crotch shot', as the portrait came to be known, appeared on the cover of Esquire magazine in 2000 and was considered very controversial and provocative, raising Platon's profile worldwide. Having earned a reputation as a strong political photographer it wasn't too surprising that Platon was the one chosen by Time magazine to photograph Russian's President Putin for their December 2007 cover.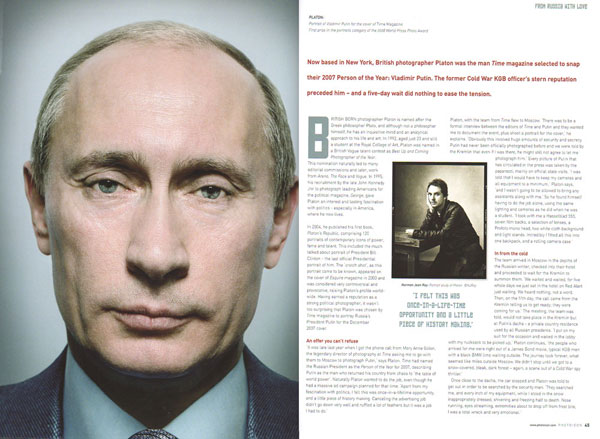 "It was late last year when I got the phone call from Mary Anne Golon, the legendary director of photography at Time magazine asking me to go with them to Moscow to photograph Putin," says Platon. Time had named the Russian President as it's "Person of the Year" for 2007, describing Putin as the man who returned his country from chaos to "the table of world power." Naturally Platon wanted to do the job, even though he had a massive ad campaigned planned for that time. "Apart from my fascination with politics I felt this was once-in-a-life-time opportunity, and a little piece of history making. Canceling the advertising job didn't go down very well and ruffled a lot of feathers but it was a job I had to do."
So Platon, with the team from Time flew to Moscow. "There was to be a formal interview between the editors of Time and Putin and they wanted me to document the event, plus shoot a portrait for the cover," he explains. "Obviously this involved huge amounts of security and secrecy.  Putin had never been officially photographed before and we were told by the Kremlin that even if I was there, he might still not agree to let me photograph him."
Every picture that has ever circulated of Putin in the press, has been taken by the paparazzi, mainly on official state visits. "I was told that I would have to keep my cameras and all equipment to a minimum," Platon says,  "and I wasn't going to be allowed to bring any assistants along with me." So he found himself having to do the job alone, using the same lighting and cameras as he did when he was a student. "I took with me a Hasselblad 555, seven film backs, a selection of lenses, a profoto mono head, two white cloth background and light stands. Incredibly I fitted all this into one backpack, and a rolling camera case."
When they arrived in Moscow in deepest Russian winter, the team checked into their hotel and proceeded to wait for the Kremlin to summon them. "We waited and waited, for five whole days we just sat in the hotel on Red Alert just waiting. We heard nothing, not a word. Then, on the fifth day the call came from the Kremlin telling us to get ready; they were coming for us." The meeting, the team was told, wouldn't not take place in the Kremlin but in Putin's dacha, a private country residence used by all Russian presidents. "I put on my suit for the occasion and waited in the lobby with my ruck-sack to be picked up," Platon continues. The people who arrived for me were out of a James Bond movie, typical KGB men with a black BMW limo waiting outside. The journey took forever, what seemed like miles outside Moscow. We didn't stop until we got to a snow-covered, bleak, dark forest – again, a scene out of a cold war spy thriller."
Once close to the dacha, the car stopped and Platon was told to get out of the car in order to be searched by the security men. "They searched me, and every inch of my equipment, while I stood in the snow inappropriately dressed, shivering and freezing half to death. Nose running, eyes streaming, extremities about to drop off from frost bite, I was a total wreck and very emotional." Finally, after what seemed like several hours, Platon was put in another car and driven into the compound of the dacha."
Once inside, Platon was ushered by security guards into a room at the back of the building, while the rest of the team were taken somewhere else. Again, the waiting game began; they had arrived at the dacha around midday and Platon was to wait a further eight and half hours before he was finally summoned to set up for the shoot. "By the time they called me I still didn't know if I was going to be allowed to do the official portrait or not. All I'd had to eat that day was three cups of tea and three very dry biscuits; I was completely hyped-up, and very nervous." At last Platon was shown into an official room to set up his lighting, but the others were still nowhere to be seen. "It was all so amazing to be in the very room where I was told so many historical events had taken place, including the dismantling of the Soviet Union. I started to look around, rather nervously, for the best place to set up my lights, even though I still had no idea if Putin would agree or not to sit for me. I looked around for a plug, but couldn't see anything apart from one behind the big desk. As I reached over to unplug it, about five security men pounced on me all at once shouting: 'Don't touch!' I thought I was going to have a heart attack. Apparently that was the plug connected to a major security system and I was seconds from starting World War III!"
Already strung out and highly stressed, Platon tried to compose himself and continued with the preparation for the shoot. "Finally, after about an hour and half the Time team arrived with the President, followed by about twenty secret service men. As soon as the interview began I started shooting. The atmosphere was very formal and rather dry, no smiles and all terribly serious. When the interview ended the editor thanked the President and then asked him if he would oblige them with one more thing. 'We need a portrait of you for the cover of the magazine Mr President' the editor said and then, looking in my direction, added, 'we have brought with us the greatest portrait photographer in the world to take your picture.'
Five days of waiting and anticipating, a rollercoaster of intense emotions, had taken it's toll on Platon. "At that moment hearing the nice words being said about me, I just burst into tears, like a big blubbing kid. But with all those pent-up emotions, I just couldn't help it."  Platon was sure he'd blown it. It was hardly fitting behavior from 'the greatest portrait photographer in the world,' and he was sure Putin would say no, but instead, he willingly agreed. "I couldn't believe it. I pulled myself together blew my nose and jumped to work," Platons laughs. "I asked him to sit on his famous chair, his 'throne', and started shooting again. There I was, in this historic room full of secret service men, Vladimir Putin, and me, while I tried desperately to think of something to say to lighten up the gloomy atmosphere that was hovering in the air.  I said 'you are the top man Mr President,' and he smiled; then I remembered that he had recently met Paul McCartney, so I asked him what he thought of him. Apparently he liked him very much, and then I told him I was a great fan of the Beatles and asked which was his favorite Beatles song. 'Yesterday' he replied.
We started talking and suddenly this powerful, cold, formidable man, ex-head of the KGB, became just a regular guy and gave me exactly what I wanted. I realized then that the main reason he wanted me there on my own, no assistants and fuss, was that he didn't want the American show-biz treatment. He wanted to do it his way, man-to-man, in my case a blithering man-to-man. No pomp and circumstance, which is exactly how I like to shoot my portraits.  The great thing about a humble, simple portrait is that it doesn't matter who you are photographing, be it your auntie, or the most powerful man in the world, the end result should be the same, capturing the essence of that person."
When the shoot was over and the official portrait achieved, Putin turned to Platon and asked him if someone could take a photograph of the two of them together. "No one could believe their ears, least of all me. I handed my point-and-shoot camera to a KGB man and I went to stand next to him for the shot. Smiling I put my arms around President Putin like we were a couple of old friends and the guard took the picture. Later on, once I was back with the Time team, everyone started to freak out about the photo of the two of us. It was the fact that I had touched Putin that was worrying everyone.  Apparently in Russia it's illegal to touch the President unless you are shaking his hand!" An extraordinary end to an extraordinary experience.
Footnote:
Platon's portrait of Vladimir Putin for the cover of Time magazine won the first price in the Portraits Single category of the 2008 World Press Photo Award. "It was some time in February when suddenly my phone went mad with people calling me to tell me they'd heard that the Putin portrait had won," says Platon. "It wasn't until I received the phone call from the World Press organization telling me the news that I actually believed it. The only way I can describe how I felt when I was told that I had won, is that I felt totally humbled. This is a global and hugely serious award and it was a big deal for me. Getting the chance to do the photograph was an honour in itself, but winning this prestigious award was a huge bonus which I didn't expect. It was well worth every effort and it also meant a lot to me to break out of the New York photographic scene, the world of fashion and glamour, into the world of photojournalism."
http://www.platonphoto.com
©Nadia Marks