Self Portrait (For Psychologies)
By Nadia Marks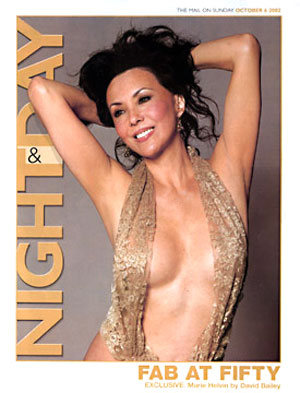 Marie Helvin, exotic beauty, fashion icon and one of the original 'supermodels', has appeared on the cover of Vogue a record breaking twelve times. In the '70s she was the muse and wife of photographer David Bailey who took some of the most stunning and memorable images of her, and in the '80s, went on to start a career in television and radio. More recently she was one of the judges in the hugely successful Britain's Next Top Model.  She has published two books, made a health and fitness video, launched her own collection of body/swimwear range, and has just completed her autobiography to be published this autumn by Weidenfeld & Nicolson.
BAILEY
My relationship with Bailey taught me a lot about the human condition about desire and purpose. I was really young when I met him, only nineteen, and I remember him as a very dominant male. I liked that. People said he was a Svengali but not at all, I was the one who got what I wanted out of the relationship; there was always this dynamic with us, about who was in control, but even though he was strong he very often relinquished control and wanted me to take charge. At the end of his day he was so tired he was happy when I did, and he would ask me to help with choosing pictures, which was a huge responsibility for me. I always viewed Bailey as a great artist, right from the first time I met him.
This is one of my favourite pictures, (B/W pic of Marie hanging on to Bailey) it was taken on the launch of Trouble and Strife at the Ritz hotel. Although I like it a lot, the messages it conveys and what lies beneath what we see are very interesting. I'm hanging on to him with every part of me, yet he's standing there cool and detached and not touching me at all. Bailey and I were very happily married, we'd been married for five years when this picture was taken, and were not in the throes of divorce, yet there is a definite message that comes through. The dynamics of our relationship are there to observe: he, a strong and dominant male, and me, a submissive female. The perfect Yungian study of the male/female. We were really in love yet he looks more interested in the lollypop that he's sucking. The reason he had a lollypop was because he was trying to give up smoking, so perhaps that day he found the intrusions of all the paparazzi and the smoking thing annoying.
Bailey and I were married in '75 and divorced in '85 although we separated in '83 but continued to share the same house. He was with Catherine by then and I had a boyfriend. We had an unspoken rule we would live our lives separately during that time.
Bailey and I remain close friends and I consider him and his family as an extension to my family. I never keep in touch with ex-lovers but with Bailey it's different, we will always be friends. (Picture of Catherine, Paloma, David Bailey and Marie)
CHILDHOOD / FAMILY
I grew up in one of the most beautiful places in the world – I went with my family to live in Hawaii when I was four and my childhood was just lovely. I wouldn't change any of it and I was the happiest I've ever been. My school years were idyllic, there was no dress code, I went to school bare-foot and with a bathing suit under a big shirt of my dad's and straight to the beach after classes – it was paradise. I love living in London but Hawaii is home.
I have dreamed about going back to live there for a long time and finally I'm doing it, yet the thing I was looking forward to most, spending time with my mum, won't happen.  I am so close to all my family and particularly to mum but now she is very very ill. I end my book by saying this time next year I will be in Hawaii with my family and now it's too late: my mum is dying and it's so hard to deal with at the moment. While she is still alive I have to hold it together for her, and I keep myself pure, clean and serene when I'm around her. I think if I present myself like that she will only pick positive vibes and that'll keep her from worrying.
I know how to deal with this sort of thing, I did it before, with my sister Suson, and I have to wait before I can collapse. I'm not saying this is the best way to deal with grief but it's my way, even if it costs me a lot mentally and psychologically. I was incredibly close to Suson, who died in a holiday accident when she was 22, and in many ways I'm still dealing with it. When Suson died I did go to pieces and I felt very sorry for Bailey because he'd gone through the same thing a few years before with Catherine Deneuve, who's sister also died while she was married to him.
Everything was a high before Suson's death, life was fabulous, I was pretty, I was rich and spoilt. After her death things lost their lustre. After 1978 everything changed and I changed my attitude to work and life; I preferred my simple life in Hawaii, and I still do. Here in London I live the high life, the glamorous life, I see friends, I go to parties, but there I live like I did when I was a teenager. The hippy life the simple life. When I'm there I put the make-up in a case and it doesn't come out till I leave.
FAME
The thing about fame is that you work so hard to get it and you strive for it and then when you get it you don't want it. I did everything in my power to acquire fame at the beginning, but now I'm happy to go back home and have none of it. I want to live in Hawaii and come back to London for work. I want to switch my life round by living there and visiting here.
MODELLING:
When I started modelling in the '70's the size of models was very small,  it was after Twiggy, and the girls were around a size 6. When I arrived I weighed 115 lbs but my agent wanted me to be 100 and the first thing she did was to send me to a diet doctor. Then, in the 80s, with the arrival of the American supermodels like Chirstie Brinkley and Patty Hanson, who were big sporty girls, the size went up to 12 so suddenly I had to gain weight.  Once, in Milan, Gianfranco Ferre told me I was too skinny and wouldn't use me; I was devastated.
It's weird looking at pictures of me then and seeing the different ways I looked. I don't really have pictures of myself at home anywhere as I don't get attached to them, but there is this fabulous picture that Bailey did of me that I love – not only for that moment in time, an afternoon with the sun in the right spot, but also the way Bailey had me lying down in a certain way that my body looked incredible. But that was then, I was a model, it's nothing to do with me now. I'm someone who lives very much in the moment. I don't live in the past, I'm not interested in it, only what's coming up.
BEING 50 / LOOKING GOOD
I don't think I ever imagined that I would have ever been in the cover of Vogue in my 50's, that's a real honour. I think it's the beginning of a change of attitude to age. When I see my name in print and see people saying "she still looks good" it drives me up the wall. Why still? Why can't I just be looking good? It's such an ageist attitude. Things are changing but it's slow, I think the generation of women coming up will benefit from the changing attitude to age, but people still have prejudice. Perhaps it's the fact that people in power in advertising agencies are 20 year-olds with misconceptions of what 50 looks like. They have no idea and I'd like to tell them that this is what it looks like! We don't look 20 but people like Twiggy and Lulu look great.
Obviously a lot of looking good is down to genes and looking after yourself and your skin. I have been modelling since I was 15 so I spent years looking after my skin using creams and cleansing, and I have always been aware of what I put into my body and how to take care of it. I do most of it myself. I hate people fussing over me so I hate having facials. I had years of it, and I also feel that after a certain age too much fussing and pulling on the skin isn't too good for you. If anyone is going to be rough with my skin it's going to be me – my number one beauty tip is exfoliating.
I'm also a great believer in sleep. I like at least eight hours a night and when I was younger, I'd put aside a whole day for sleeping but now it's harder, because I have so many things on my mind I just can't switch off. I don't mind cosmetic surgery if it's needed and it's going to make you feel better – I would do it, if I needed it not because I want to look younger but because I want to look the best I can.
LOVE AND SEX
My ultimate dream is to be in a passionate, sexual relationship with someone whom I don't have to see every day. When I told my sister this she laughed and said "Marie, don't you know this is every woman's dream?" It's not to say that I don't want to be in a relationship. I'd like that. I just don't want to get into a domestic situation with anyone again. Being a courtesan sounds like a great idea to me; I would have been better suited to a different century. People think a courtesan was a prostitute, but that's not true, she would have had a few affairs of her own choice, been in control, and have had power over her own destiny.
FRIENDSHIPS / HAVING CHILDREN
I'm quite a solitary person and enjoy my own company, which is probably the reason I love going to retreats – it's easier and more fulfilling if I don't have to worry about other people. I sometimes I crave solitude and other times I like to be gregarious – I think the solitary thing is a Leo trait, we like our own company and we're free spirits. I drive my friends mad, as I guess I'm pretty selfish, which probably comes from having only me to think about; I revel in my selfishness, I don't mean it in a nasty way but I'm a private person and my friends accept that. My girlfriends are very important to me, and some of them I've had for thirty years, like Sabrina Guinness, Bianca Jagger and Angelica Huston. Moving on and having children can make people drift apart which is, in a way, what's happened to Jerry (Hall) and me. I'm godmother to Elizabeth and we do see each other, but not very often.
Having babies was never something I particularly wanted to pursue. If I got pregnant accidentally when I was with Bailey that would have been fine but none of my other siblings have children either. I remember talking to Angelica Huston about babies once, after I broke up with Bailey, and she with Jack (Nicholson), and she said: "You know Marie, I'd rather have kittens, don't you agree?" I never forgot that, I was in complete agreement.
THE FUTURE
Having written the book about my life I feel that now I can let go of the past. The past is just stories you remember, it's just talk. It's only as good as your memory and that's why I wanted to write the book now. Now that's done I'm dumping my memories and I feel liberated. I love the present, always have done, and I'm moving on. I'm going to live in Hawaii, I want to do more modelling more work and live for the present.  The best time in my life for me is now.
ENDS