for In Style
By Nadia Marks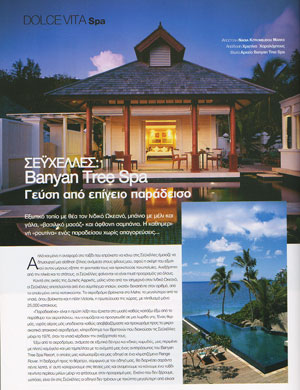 Paradise is the first word that comes to mind looking out of the airplane as we're about to land on what looks like a stretch of lush, green vegetation and aquamarine water, rather than a runway. The Seychelles are a collection of some 115 islands, of which only eight are inhabited, lying off the coast of east Africa, just south of the equator in the Indian Ocean.
The Banyan Tree Spa resort which is built on a hillside, and has the Indian Ocean as its backdrop; it's made up of 36 individual villas, all scattered around the hills or along the beach-front. Each villa has its own private pool, and since you're completely secluded and only surrounded by trees, you can swim and bask naked in the early morning sun.
The company's philosophy is based on Asian traditions that use the healing powers of aromatic oils, herbs and spices. There are numerous treatments available, and all are charged separately; but if you were to choose only one treatment during your stay, it has to be the three-hour signature 'Royal Banyan' therapy. The treatment is based on the massage traditions used in the Royal Thai Palaces and takes place in what can only be described as a temple. A stone path leads you through a rain forest of a garden, past orchids, fuchsias and bougainvilleas till you reach the top of a hill at an open air pavilion decorated with garlands and fragrant candles. Designed to be enjoyed by couples you lie side-by-side with your partner on separate beds, while you are treated and pampered like royalty for three whole hours. As the therapists go to work you gently drift in and out of consciousness, the only audible sound to reach the ears is birdsong and the ocean waves.
The Banyan Tree is located on Mahe, the main island, and although you are totally cocooned in the completely self contained resort and need do nothing apart from sleep, laze in the sun and eat, the rest of the island is well worth a tour. See virgin beaches that are all around the coast line, tea and lemon grass plantations and breathtaking views of mountains blanketed in rain-forests. Go snorkeling at a deserted beach or take a picnic like we did and swim with tropical fish before sitting on white sand under the shade of a swaying coconut palm to eat and chat with the local children.
Celebrities
Paul McCartney and Heather Mills, who stayed in the Presidential Villa at the Banyan Tree Spa during their honeymoon.
Catherine Bailey.
Terry Venables (Manager, Leeds United).
Glen Hoddle (Manager, Tottenham Hotspur).
Patrick Viera (Footballer, Arsenal and member of the French winning team for Euro 1996).
Jasper Olsen (former footballer, Manchester United)
Martin Djetou (former footballer, AS Roma)
Top treatments
Royal Banyan
Thai Healer Massage
Thai Honey Facial
Rejuvenation & Renewal Massage
How to get there
Kuoni World Class offer six nights at the Banyan Tree, Mahe, from £2,200 per person, based on two sharing a Hill Villa on a room-only basis, including return flights with Air Seychelles and private transfers (based on departures between 30th April and 20th June 2003). To book call Kuoni World Class on 01306 747 001 or visit http://www.kuoni.co.uk